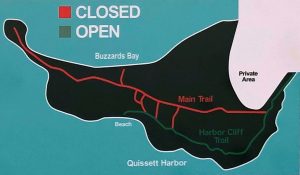 All Trails to the outer Knob along the Buzzards Bay side of the property will be closed as of Monday, January 11th for the Knob Maintenance Work – The construction access areas have been cleared, the paths have been widened, the work on the erosion on the outer harbor side by the stairs has begun and now the revetment construction and delivery of the larger rocks will begin next week. Therefore, the property will be closed to the public for your safety on the Buzzards Bay side trails and the cross-over trails (please see photo). The harbor side trail will remain open for visitors but there will be no access to the outer Knob. We hope the project will be finished by late spring and replanting efforts will take place in the fall. We appreciate your support and understanding during this much needed maintenance.
The mission of Salt Pond Areas Bird Sanctuaries, Inc. (SPABS) is to protect and preserve Falmouth's open space wildlife habitat, historic buildings, and to provide educational classes to all ages.
Events
We offer events throughout the year for the whole family!
Featuring:
Properties
Salt Pond has some beautiful properties for the public to enjoy in Falmouth, MA, including:
The Fresh on the Farm dinner has been postponed. Future date TBD.
Other events and programs are yet to be determined if they will be postponed, please feel free to call the office with any questions.