Salt Pond Areas Bird Sanctuaries
2019 Annual Meeting
Thursday, June 6, 2019 at 5:30 p.m., West Falmouth Library
Program Details
Thursday, June 6, 2019
5:30 p.m.
West Falmouth Library, 575 W. Falmouth Hwy., West Falmouth, MA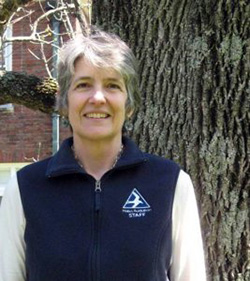 Guest Speaker: Dr. Katharine Parsons
Dr. Katharine Parsons received her Bachelor's degree from Smith College and Ph.D. in Ecology from Rutgers University.  She has 35 years of experience in coastal waterbird research, management and policy in the northeast.  Since 2011, Dr. Parsons has directed Mass Audubon's Coastal Waterbird Program which works with coastal communities throughout Massachusetts to protect rare birds and their habitats.  In addition, she has taught courses in coastal ecology and natural systems at Harvard's Graduate School of Design since 2008.
All members, guests and the public are welcome and invited to attend the annual meeting and to enjoy the wine and cheese reception. The meeting will be held at West Falmouth Library, 575 W. Falmouth Hwy., West Falmouth, MA.
Guest Speaker: Dr. Katharine Parsons
Dr. Parsons will give a presentation at the West Falmouth Public Library about Piping Plover ecology, management and conservation. In particular, shorebird nesting and migratory patterns in Buzzards Bay will be discussed.
Please feel free to contact, Katey Taylor at 508-548-8484 with any questions.